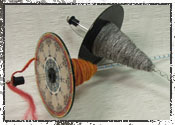 CD spindles have been around for a while, but never quite like the folks at Cottage Fiber are making them. As you look down on the whorl, you get to enjoy a kaleidoscope of movement since each of the CDs are printed with terrific designs. These are not printed labels, but actually a water-resistant part of the CD itself.

The underside of the whorl is shiny black and shows off your newly spun yarn when you set the spindle down, which WE think is an added perk... and the ability to chose the color of accent wire sprialing up the shaft adds the finishing touch to this design-your-own spindle.

By using new materials in this design, these folks have created a lightweight ( 1.8 oz )spindle capable of spinning everything from laceweight angora to GutsyStuff.

Entertain the kids... the cats... or just yourself... they are hard to stop watching.